It's just a terrible shame I don't get to see the end of VBS (Vacation Bible School) tomorrow. My part was pretty easy, running sound upstairs away from 200 rowdy, I mean, lovable kids.
The kids were commisioned at the beginning of the week to raise $1000 for an orphanage in India. They had a chance to see (through slide presentations and speakers from India, Africa, Ireland, Eastern Asia and Mexico) how extremely "lucky" they were to live here in the US.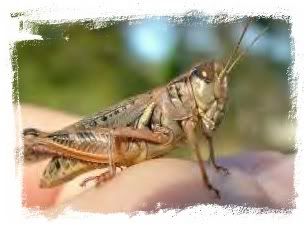 At last count, this Thursday morning, the children raised over $800. So what's up with the crickets? If the youngsters can bring in $1000 by Friday, four of the pastors will eat a bug--a cricket to be precise. I talked to two of them and we might be cleaning the sanctuary tomorrow.
The big bummer is that I won't be there to see this most monstrous event since I have my writers' group to attend to. I'll have to find out if my friend steamed, fried or roasted the little critters. Whatever she did, she's making chocolate soup to cover them. Maybe they'll send pictures.