From little girl, to young lady, to well . . . in one more week, a woman. May 29th, 2006 that little thing who kicked into my ribs to get attention, will be turning 18. No mother ever believes their babies are all grown up.
Well, a few more weeks at Arroyo High School, then graduation, and she'll be headed for
Biola University.

She'll major in Music/Performing Arts/Media, because they don't study whales and dolphins at Biola.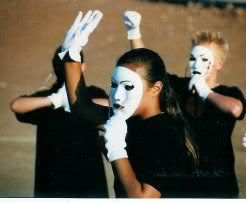 Bummer for her.
She has long brown hair and drives a convertible which she has already wrecked once, blew a tire on Arrow Highway, and . . . heck, she blowed up the engine on the 57 Freeway. Dad and AAA to the rescue.
Biola is a good fit for her in more ways than one. Amongst other things the school is located in La Mirada, CA, which is about a 10-15 minute drive to her work, Disneyland.

She'll be living on campus where she'll have everything a young lady could ever want; olympic-size pool, training room, cafeteria, coffee shop, Library etc. She even gets her own mailbox.

Well, stay tuned for more updates.