Today we will share a few interesting cooking/food facts from our family cook book "
Come and Dine
." Recipes from Indonesia, Holland and Australia and we snuck a few US dishes because, after all, we are now second generation American. By the way, did you know that Indonesia consists of 13,000 islands (last I checked, lol), has 300 ethnic groups, and 365 languages? Mom was born in Soerabaja. Great food!
Fact:
Bananas can lower the risk of high blood pressure because they are high in potassium. In WWII, my Oma used the white meaty part of the banana peel to soothe her children's upset tummies (nice way of saying diarrhea). Mom said it worked splendidly.
Interesting fact
: Do you know what stock cubes are? How 'bout sultanas, or mince meat?
Gross fact
: To make sour milk, add one teaspoon of vinegar or lemon juice to 1/2 cup of fresh milk. And why would you do this?
Fact
: from my neighbor--If you have problems cleaning your grater after shredding cheese, try grating a raw potato after the cheese. The potato clears the gummy cheese out of the holes. Nice!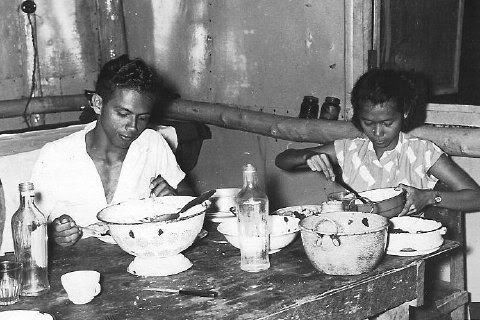 Family Fact
: Nasi Goreng is actually a breakfast dish in Indonesia. It is often made from the boiled rice which may have been left over from the previous night's meal. Yep it is. Here's mom's recipes for
Nasi Goreng
(the kid version) . . .
2 c. white rice
2 cloves garlic, finely chopped
1/2 salted pork, diced
1 chicken bouillon
1/2 large onion, finely chopped
4 eggs
Scramble the eggs. Cook rice (or use the left-overs) according to directions on box/package. Fry pork in its own juices/fat till golden brown. Spoon pork into separate bowl. Add the rest of the ingredients to frying pan. Fry in pork's juices till done. Add rice, pork, and scrambled eggs and mix thoroughly. Serve with a few sliced cucumbers and kerupuk (prawn crackers).
Juicy Fact
: You can make a tea from lemon grass to relieve congestion, coughing, headaches, and fever.
Kneady Fact
: Take 1/2 cup of butter or margarine, 2 tablespoons of sugar, 1 cup of flour and milk to make a soft dough. "And He took bread, gave thanks and broke it, and gave it to them, saying, 'This is my body given for you; do this in remembrance of me.'" (Luke 22:19)
Cut the butter into the flour and sugar, Add milk to make a soft dough and knead several times. Chill the dough overnight. Roll thin as a pie crust. Score serving size pieces. Bake at 375 degrees F to 400 degrees F for 10 to 12 minutes or until light brown on top. Watch carefully. From
The Grandma's Attic Cookbook
. Amen!