By Linda Moreland (aka Grandma)
(This was first published in an online magazine but Grandma can't remember the name of it!!)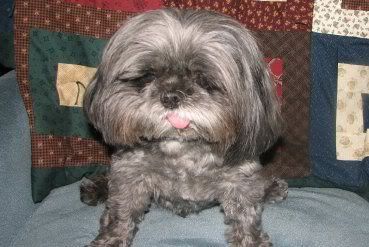 I've always considered myself to be a strong, independent woman who had worked in the retail-drug-store industry for most of my adult life. I raised two wonderful children and was now enjoying grandchildren in my life as well. I really did feel that I had it all.
In late March of 1999, while I was at work, I tripped and fractured my right foot. From that point on my medical condition progressively declined until, after extensive testing, I was diagnosed with Fibromyalgia.
No longer able to work, at the job that I loved so much, and within the space of a very short time, I found myself totally isolated. There was no one to talk to or even keep me company. After talking to an average of 200 people a day at work, this was a very hard adjustment. I decided, as my depression began to overwhelm me, that maybe I needed a pet to keep me company.
As I sit here, on my old but comfortable gray sofa, reflecting on my life, I am holding my little Shih Tzu, Charley close to me. I can't help but think back to the time when he first entered my life.
We had always had pets when my children were growing up, but I had not had an animal for years. Recently I learned that there were animals put up for adoption. I never heard of such a thing! This would be great, I thought and found myself driving to Petco one Saturday morning in August of 2000 "just to see what they had to offer."

I did not intend to bring ANYTHING home with me and when I walked inside all I saw were big dogs (I live in a condo, so that wouldn't work). I started to meander towards the back of the store when I almost tripped over a cage that was on the floor. I looked down and locked eyes with the most adorable small black Shih Tzu in the whole wide world. He just stood there on his back legs, like he was frozen, staring straight at me and begging me to take him home. I could not take my eyes off him! The lady asked me if I wanted to hold him. I said, "O, no! I'm too afraid."

They wanted $150 for him and I had never paid for a dog in my life. I went home to think it over. Three hours later I went back. I decided that if he was still there he was meant to be mine.

He was still there, of course, and I had no doubt he was waiting for me. When I was told the history of his physical abuse in a "puppy mill" I was almost sick to my stomach and I vowed that this dog would never know that kind of pain again. What I never realized was what this dog was going to mean to me. What he has meant to the quality of my life is beyond description.

When I tell people that Charley "saved my life," I really mean it. He was sent from God. He loves me unconditionally and only asks for the same in return. I guess you could say that the two of us were just meant to be.